Where to Spend Christmas in Portugal: Portugal, a nation rich in cultural traditions and steeped in Catholic heritage, celebrates Christmas with a unique blend of customs that reflect the country's history and spirituality. Among these traditions is the iconic nativity scene, intricately displayed in homes, churches, and public spaces, telling the story of Jesus' birth with figurines crafted from clay, wood, and cork.
Portugal's Christmas traditions are deeply rooted in culture and history, offering a captivating tapestry of experiences.
Christmas Tradition in Portugal
Christmas in Portugal is a celebration deeply rooted in Catholic culture and traditions. One of the oldest traditions is the nativity scene, which represents the birth of Jesus. Set up in homes, churches, and streets, these nativity scenes vary from simple to elaborate, featuring clay, wood, or cork figurines.
For those wondering where to spend Christmas in Portugal, there are various options to consider. The night of December 24, known as "consoada," is when families come together for a diverse feast. Boiled codfish is the main dish, but in different regions, other dishes like octopus, lamb, or turkey are also popular. Additionally, gift-giving takes place after "consoada," with children receiving presents from Father Christmas, and adults exchanging gifts among themselves. Many families then attend the midnight Mass, known as "missa do galo." On the other hand, Christmas Day, December 25, is a day of rest and family gathering.
In addition to these traditions, Portugal has other cultural and religious expressions, such as "cantigas ao menino" (songs to the child), "Madeiros" (bonfires), "janeiras" (January songs), and "cantar dos reis" (singing of the kings), especially in the interior of the country and on the islands of Madeira and the Azores. Christmas in Portugal is a celebration rich in culture and history.
Where to Spend Christmas in Portugal: Choosing Your Destination
When it comes to celebrating Christmas in Portugal, you'll discover a country brimming with diverse options, whether you're drawn to the mainland or the enchanting islands. Each region offers a unique tapestry of traditions, charms, and attractions.
A pivotal consideration for those contemplating where to spend Christmas in Portugal is the climate you desire for your Christmas getaway. Are you seeking a winter wonderland with cold and snow? If so, destinations like Serra da Estrela, Serra do Gerês, or Serra de Montesinho await, where you can revel in the magic of white landscapes and partake in activities such as skiing, snowboarding, and hiking. On the other hand, if a warm and sunny Christmas beckons, destinations like the Algarve, Madeira, or the Azores provide the perfect backdrop, allowing you to embrace the sun, sea, and a multitude of water sports.
The atmosphere you crave is another aspect to ponder. For those yearning for a Christmas infused with culture and the vibrant pulse of city life, cities such as Lisbon, Porto, Coimbra, or Évora beckon with their rich offerings of museums, historic monuments, ornate churches, and festive Christmas markets. On the contrary, if the allure of nature and the tranquil countryside beckons, regions like Douro, Alentejo, Minho, or Ribatejo present themselves as idyllic settings. Here, you can immerse yourself in rural landscapes, explore lush vineyards, and savour delectable regional products.
Madeira Island
Madeira Island, located in the Atlantic Ocean southwest of the Portuguese coast, is a prominent destination in Portugal. With an area of 741 square kilometres and a population of approximately 262,000 inhabitants, the island is known for its natural beauty, mild climate, and rich culture.
Madeira offers a variety of landscapes, from the laurel forests, recognized as a UNESCO World Heritage Site, to deep valleys and the plateau of Paul da Serra. The climate is Mediterranean, with average temperatures above 20°C throughout the year and variable precipitation depending on altitude and exposure.
As a tourist destination, Madeira Island attracts both Portuguese and foreigners due to its landscapes, traditions, cuisine, and wide range of things to do. Accommodation options range from luxury hotels to rural cottages, and activities include hiking, canyoning, whale watching, golf, scuba diving, and surfing. The island also has a vibrant cultural life with popular festivals such as Carnival and the Flower Festival, as well as cultural events like the Atlantic Festival and the Madeira Literary Festival.
Travel Tips for Christmas in Madeira
When preparing for your Christmas journey to Madeira Island, there are several practical tips to keep in mind, to ensure a truly memorable experience:
Book in Advance: Due to the popularity of Madeira Island as a Christmas destination, it's advisable to book accommodations and flights in advance to ensure availability.
Mild Climate: Although Madeira enjoys a mild climate during the winter, it's recommended to bring winter clothing, especially for cooler evenings.
Sample Local Cuisine: Be sure to try traditional Christmas dishes like codfish and Christmas sweets such as "bolo-rei" and "rabanadas."
Join Local Festivities: Explore Christmas markets, attend cultural performances, and participate in local church celebrations to immerse yourself in the true Christmas atmosphere of Madeira.
Outdoor Activities: Take advantage of the island's stunning landscapes with hikes along the "Levadas," coastal walks, and other outdoor activities.
Local Transportation: Madeira has an efficient public transportation system, but renting a car can be convenient for exploring the island at your own pace.
Plan Your Itinerary: Check the schedules for midnight Mass ("missas do galo") and other special Christmas events you'd like to attend to ensure you don't miss out on local traditions.
Seven Reasons to Choose Madeira Island for Christmas
Christmas is a magical time when many people take the opportunity to travel and discover new destinations. If you're looking for a special place to spend Christmas, how about considering Madeira Island? This Portuguese island, situated in the Atlantic Ocean, has a lot to offer its visitors, especially during this time of the year.
Mild Climate and Stunning Landscapes
Madeira Island has a Mediterranean climate, with average annual temperatures above 20°C and variable precipitation depending on altitude and exposure. This means you can enjoy a sunny and warm Christmas without the need for coats or scarves. The island boasts a diverse range of landscapes, from laurel forests, classified as a UNESCO World Heritage Site, to deep valleys and the plateau of Paul da Serra. You can admire the island's natural landscapes through hiking, canyoning, or whale watching.
Unique Christmas Traditions
Madeira Island has its own Christmas traditions that reflect its culture and history. One of the oldest and most common traditions is the nativity scene, representing the birth of Jesus in Bethlehem with Mary, Joseph, shepherds, the three wise men, and animals. Nativity scenes are highly elaborate and creative, featuring clay, wood, or cork figurines, while others are simpler but equally beautiful. Another typical tradition is the "missa do parto," which takes place in the early morning hours of the nine days leading up to Christmas. It is a festive and lively mass that ends with a gathering of the faithful where they enjoy honey cakes, sweet potato bread, and hot beverages.
Enchanting Christmas Markets
Madeira Island also hosts several Christmas markets where you can find regional products, crafts, decorations, and gifts. One of the most famous markets is the "Mercado dos Lavradores" in Funchal, which comes alive on the night of December 23. This night, known as the "Noite do Mercado," sees people flocking to the market to buy fruits, vegetables, flowers, and fresh fish for their Christmas dinner. The market stays open until the early morning hours, and there's plenty of music, dance, and joy. Other markets worth visiting include the "Mercado da Penteada," the "Mercado da Vila," and the "Mercado do Santo da Serra."
Madeiran Christmas Cuisine
Madeira Island boasts a rich and varied cuisine that shines, especially during Christmas. The Christmas Eve dinner in Madeira, known as "consoada," takes place on the night of December 24. The main dish typically includes boiled codfish with potatoes, cabbage, and eggs, drizzled with olive oil. On the other hand, the Christmas Day lunch includes chicken broth, followed by pork marinated in garlic and wine, accompanied by bread stuffing and vegetables. Traditional sweets, such as "bolo-rei," honey cakes, "rabanadas," "sonhos," and "filhoses," are also part of the celebration.
Funchal and Its Christmas Decorations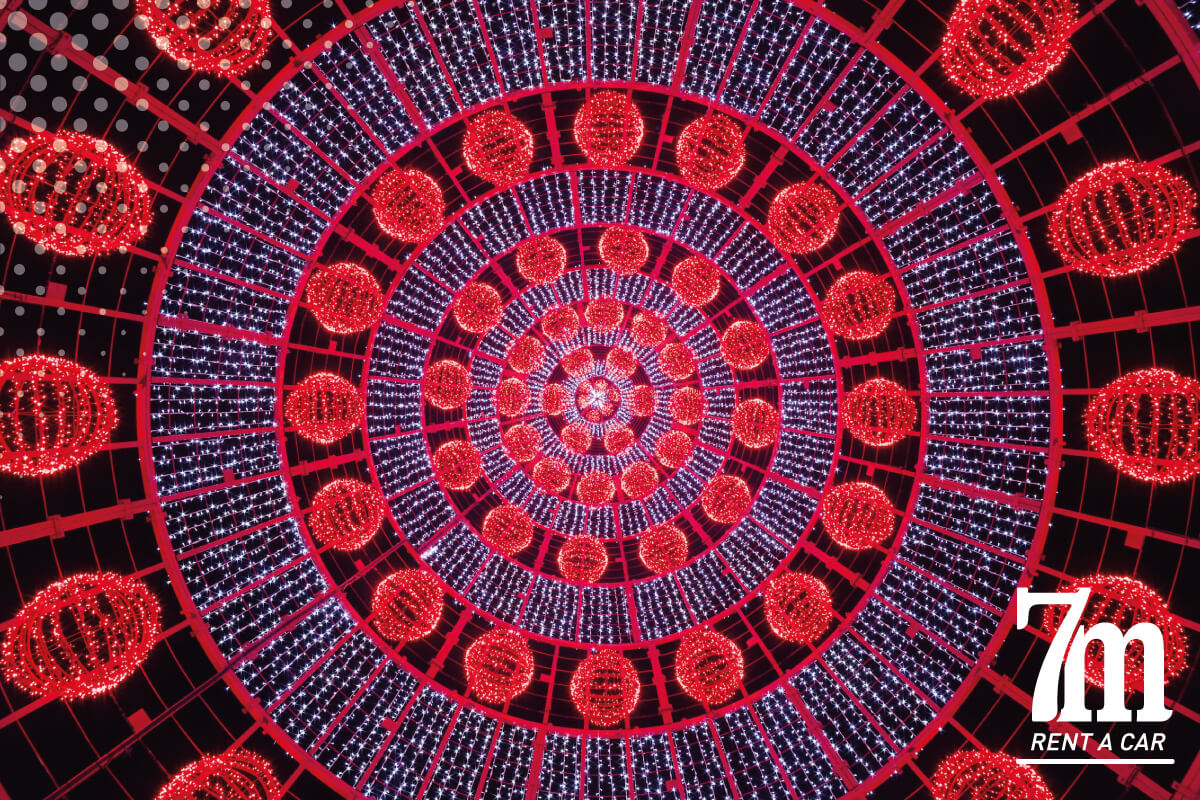 The capital and largest city of Madeira, Funchal, becomes especially beautiful and illuminated during Christmas. The streets, squares, churches, and buildings are decorated with lights, flowers, ribbons, and stars. The Avenida Arriaga, Largo da Restauração, Praça do Município, and Sé Catedral are some of the places worth visiting to see the Christmas decorations. Additionally, Funchal features a giant Christmas tree in Praça do Mar, which stands at 40 meters in height and weighs 17 tons. The Christmas tree is inaugurated on December 1.
Outdoor Activities
Madeira Island also offers several options for outdoor activities that can be enjoyed during Christmas. You can take walks along the Levadas, which are irrigation channels that traverse the island, allowing you to explore the local flora and fauna. You can also go canyoning, descending rivers and waterfalls using climbing, rappelling, and swimming techniques. Whale and dolphin watching are other activities you can indulge in, as these creatures inhabit the waters of Madeira and can be spotted from boats or catamarans. Additionally, golf, scuba diving, and surfing are some of the most popular sports on the island.
Madeiran Hospitality
Last but not least, Madeira Island offers unparalleled hospitality, making visitors feel at home. Madeirans are friendly, welcoming, and generous people who love to share their culture, cuisine, and stories. They are also festive people who enjoy celebrating Christmas with music, dance, and joy.
Where to Spend Christmas in Portugal: Conclusion
Choosing Portugal as your Christmas destination invites you into a world where time-honoured traditions blend seamlessly with breathtaking landscapes and warm hospitality. Whether you prefer the snowy serenity of Serra da Estrela or the sun-kissed shores of the Algarve, Portugal offers an array of experiences tailored to your desires for where to spend Christmas in Portugal. Madeira Island, in particular, stands as a jewel in the Atlantic, adorned with nativity scenes, enchanting markets, and a rich culinary heritage. As you plan your journey, remember to embrace the local festivities, savour the unique flavours of "consoada," and traverse the island's scenic trails. Portugal, with its cultural richness and natural splendour, promises a Christmas that resonates with the heartwarming melodies of tradition and the joy of discovery.