The tropical environment of Madeira Island is undoubtedly a major reason that attracts the attention of many visitors. Come and discover the best beaches on the island of Madeira.
You have certainly heard of Cristiano Ronaldo's homeland, or island of the small and tasty banana, or the simple term " pearl of the Atlantic " … The beautiful island of Madeira does not go unnoticed by anyone, be it for its nature or its more tropical side. The later is the focus of this article.
Madeira has unique beaches and many are breathtaking, given how exclusive and peculiar they are. From pebble beaches, to beaches between mountains, to beaches exclusively accessible by boat or by challenging trails… Here, you will be able to discover the 10 beaches of Madeira that you MUST know!
1. Calhau da Lapa
We will start this list with a somewhat peculiar beach. Calhau da Lapa is located in Campanário, Ribeira Brava, and we guarantee that you will have a true Madeiran experience on this beach. Why?
On one hand, you will be surrounded by local people, as it is a beach little known by visitors, but very popular with residents.
If you are looking to explore places on the island of Madeira that are more hidden from the typical visitor, besides Calhau da Lapa, consult this guide, we promise that each of these places is worth visiting!
On the other, it is a pebble beach, which means that it is a true Madeira-style beach. In addition to the pebble, it has a cement space with access to the sea by stairs and also a wooden platform to facilitate your dives.
Access to the beach can be done in two ways: by boat or on foot. If you decide to go by boat, there are several groups that organize this trip. If you like your independence and prefer to go on your own, you can go by car until 'Campanário' and then walk along the trail that takes you to the beach – get ready for a slightly challenging walk.
Calhau da Lapa is not just any beach, it is also a unique experience and a scenario like few in the world.
2. Seixal Sand Beach
If instead you prefer sandy beaches, don't worry! There are some beaches on Madeira Island that can offer this experience. The first sand beach that we suggest is Seixal Beach, which is made up of natural dark sand.
Located in the North of the island, this beach stands out, essentially, for the grandeur of a cliff that combines majestically with the Atlantic Ocean. Here, you will have a scenario that will bring your chin to the ground and, also, you can enter the warm and crystalline waters easily, since the sand is quite extensive.
Right in front of the beach is the 'Clube Naval do Seixal', with a restaurant-bar and other accesses (also very beautiful) to the sea. You can also count on several other restaurants close to the beach.
Although the beauty of the scenery intensifies when the sky is not covered with clouds, Seixal Beach is a mandatory stop during your visit to Madeira, whatever the time.
3. Doca do Cavacas
We have already shown one pebble beach and one sand beach, so now it is time to show one of the natural pools complexes that exists on Madeira Island: The Doca do Cavacas Beach Complex, a charming place where you will certainly want to make a stop.
A natural pool complex is always a good idea to cool off on hot days and soak up the sun. Doca do Cavacas is located in Lido, just a few minutes from the center of Funchal. Naturally, the water that fills your pools comes directly from the sea, so it is perfect to sit on the wall and let yourself be carried away by the waves.
As it is a beach complex, the entrances are charged, but it is a price worth giving. In addition to the pools, there is also a restaurant-bar within the complex, which makes it a great place to spend your day and live up to the price of your entrance ticket.
4. Prainha
They aren't many, but the ones that exist are incredible! We now show you another sand beach, now located in the East of the island, in Caniçal (Ponta de São Lourenço).
The name of this beach must be taken seriously, because it is actually a small beach. But precisely because it is small, it becomes a cozy and pleasant place. Getting to it is, like Calhau da Lapa, a challenge. You will have to take a small trail from the main road (where you can leave the car) to the beach. But believe me, it's worth it!
We must warn you, however, that the eastern part of Madeira is the windiest in the region, so it is very likely that you will come across some winds that could threaten your tranquility a little. However, with such detailed weather forecasts that exist, you can check whether or not it is a good day to visit Prainha.
This small and charming beach also has a restaurant-bar, perfect for restoring energy before going back to the car.
5. Praia do Garajau
Let us now return to those beaches that exist with greater abundance: pebble beaches! The one that we present now is incredible (like all of them, in fact) and is located close to that which is the Madeiran Cristh Redeemer (official name: 'Cristo Rei of Ponta do Garajau'), a tourist attraction that you will also want to know.
Unlike Prainha, Praia do Garajau is already more extensive and there is less chance of having to touch your towel with an unknown neighbor. And this one has access to cars! No, Madeira is not only made up of beaches with difficult accesses (but, let's face it, those are the best).
Here, you can count on a very clean and turquoise blue sea, with a bar where you can taste the regional drink Brisa Maracujá and also order a dose of limpets.
As mentioned, it is in Garajau that you can find the statue of Cristo Rei. You will see that you will not be disappointed – after all, it is at the pearl of the Atlantic.
6. Calheta Beach
In Calheta, you can count not with one but two yellow sand beaches. As you can see in the photo below, Calheta has two beach sides that face each other, with a big space on both sides and the sea in between.
Unlike the previously presented sand beaches (Seixal and Prainha beach), Calheta beach is not made of natural sand. It is imported from Morocco – which, in fact, makes the place equally interesting (say that you won't find it curious to be able to feel the difference of the Moroccan sand in Madeira?).
Whichever side of the beach you choose, both have a restaurant-bar where you can order refreshments or improve your day with dishes or snacks typical of Madeira (Suggestions: chopped meat ('picado'), fried corn ('milho frito'), Laranjada (typical juice) and / or Coral beer).
The ​​Calheta Beach area also has a beautiful promenade, where you can enjoy walking and enjoying the view that the beach will provide. If you travel with children, they will have no difficulty entering the water (the high temperature of the Madeiran sea also helps) and will have plenty of space to build their sand castles. It is a beach that you will not want to ignore!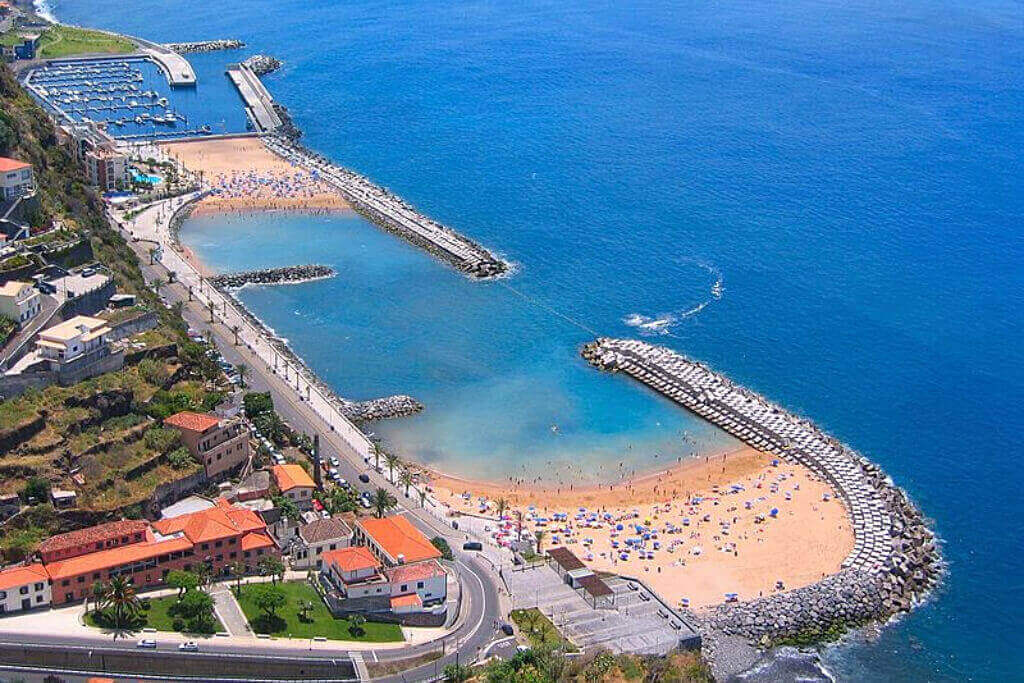 7. Porto Moniz Natural Pools
And if you like bathing complexes and just one suggestion is not enough, we give you another one: Porto Moniz Natural Pools.
Like Doca do Cavacas Bathing Complex, the Porto Moniz Natural Pools are fascinating, charming and, of course, the water that fills them comes directly from the Atlantic Ocean. You will be charged for entry, but you can (and should) perfectly spend your day there and enjoy the waves of tranquility offered by Porto Moniz.
It is a very large space (bigger than Doca do Cavacas), and perhaps, in general terms, it has less affluence since it isn't close to the center of Funchal. Still, the Porto Moniz Natural Pools are a huge tourist attraction on the island of Madeira, receiving several people throughout the week and even more on weekends.
Have you already noted Porto Moniz Natural Pools in your itinerary?
8. Alagoa Beach
We thought of beaches for all tastes: we already shown natural sand beaches, Moroccan sand beaches, pebble beaches, natural pools … now we present the surfers' beach!
If you like to venture into the waves with a surfboard, Alagoa Beach is the best option for you. It is located in Porto da Cruz, Machico, and among all the options on the island, this is where you can hold a board standing for a few seconds (or lying down if you prefer). It is perfect for beginners or for people who just want to try surfing and / or body-boarding (Find out more about surfing and body-boarding on Porto da Cruz beaches here).
You can also count with a stunning view and a bathing complex quite close to this beach. Alagoa Beach is the most central, but there are others nearby too (Maiata Beach, for example).
When visiting Alagoa Beach, take the opportunity to visit the village of Porto da Cruz and its beautiful promenade. Believe me, it's beautiful!
9. Palmeiras Beach
If you were fascinated by the typical pebble beaches, Palmeiras Beach is another great option for you, and this one stands out strongly from the others. Why? Because you can see the planes landing on the mythical runway at Madeira Airport – Cristiano Ronaldo while standing on the beach. It captivates anyone, doesn't it?
Palmeiras Beach stretches over a large part of the coast of the city of Santa Cruz, and if you walk along the promenade, on either side, you will find freshwater pools (children's pools too) where you can take your dives.
No matter where you choose to soak up the sun, you'll be able to watch the challenging plane landings on any beach or pool in Santa Cruz. In addition, you can count on several restaurants, bars and cafes by the sea and others scattered around the city.
10. Machico Beach(es)
We won't end our list with one beach, but with two, entirely at your choice. Do you prefer sandy beach? Machico Beach. Do you prefer pebble beach? Machico Beach.
In the beautiful city of Machico you can count with the best of both worlds. There have been several improvements over the years for the sand beach to become as you see in the image below. Before, Machico relied solely and exclusively on the pebble beach. Now, fortunately, it has two beaches to suit everyone's taste.
Like the city of Santa Cruz, Machico also has several restaurants, bars and cafes in the surroundings of the beaches and, going there, you will be able to visit a city inserted in the middle of a valley. Not everyone has that privilege!
The (Beach) Paradise Doesn't End Here
Now that you've read about 10 beaches you should know on Madeira, it's time to start visiting them or adding them to your future itinerary. If you have time to visit them all, great. If not, it's the perfect excuse to come back.
Remember that Madeira Madeira is just one of the islands in the archipelago of Madeira. Along with Porto Santo Island, the other habitable island in the archipelago, the number of beaches that you can find on both is much higher than those found in this guide. For this reason, we recommend you to visit as many beaches as you can because on each one you will have a different experience!
If you can, go to Porto Santo, and marvel at its extensive sand beach covering all the island shore!
Learn more about the various islands in the Madeira archipelago in this guide.
Be amazed by the ten must-see places in Porto Santo.
Do you want freedom of movement on Madeira Island?
The best way to get around Madeira Island is with one of our vehicles. At 7M Rent a car you can find the perfect vehicle to get around during your Madeira vacation. Rent any of our cheapest or most luxurious vehicles.