Funchal old town restaurants: In the picturesque setting of Funchal's Old Town, on the beautiful island of Madeira, lie true gastronomic gems that offer unforgettable experiences to their visitors. This article, entitled "Restaurants in Funchal's Old Town: 8 Unforgettable Gastronomic Experiences," highlights eight remarkable establishments that are a true ode to regional and international cuisine.
The keyword "restaurants in Funchal's Old Town" will guide us on this culinary journey, presenting options that captivate the senses and leave lasting memories. The objective of this text is to inspire readers to explore the charming restaurants of the Old Town, enjoying unique and delightful moments.
In these restaurants, the authentic flavours of Madeira blend with innovative culinary techniques, resulting in dishes that satisfy both traditional and discerning palates. From typical Madeiran cuisine to gastronomic influences from around the world, each selected restaurant offers a unique experience, anchored in fresh and high-quality ingredients.
Each restaurant in Funchal's Old Town has its own story and identity, inviting diners to embark on a culinary journey that will undoubtedly be memorable.
A Gastronomic Journey Through Funchal´s Old Town Restaurants: 8 Culinary Delights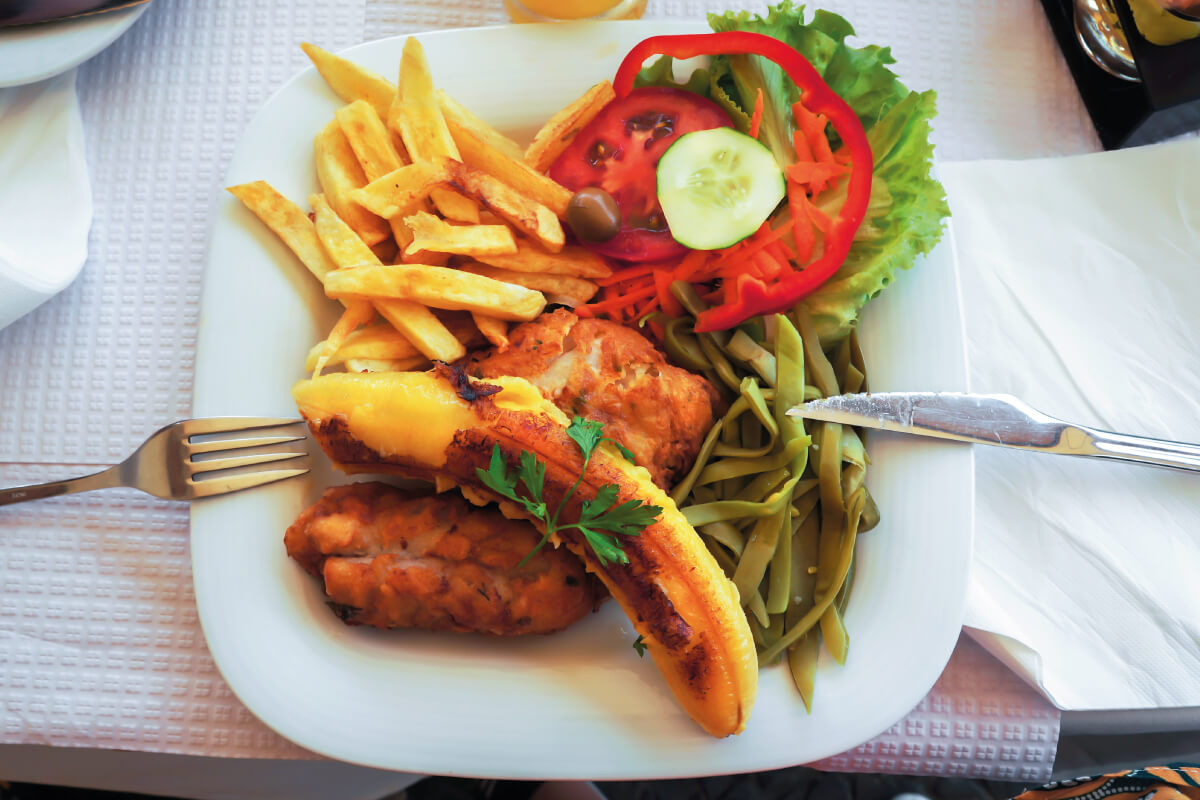 1. Restaurante Cidade Velha
Discover the perfect combination of fresh seafood, Mediterranean, European, and Portuguese cuisine at Restaurante Cidade Velha. This gastronomic sanctuary offers a divine experience, perfect for a romantic dinner for two. The intimate and welcoming ambience creates a memorable atmosphere. We recommend trying the "Polvo à Lagareiro" with local olive oil and the grilled "Espetada de Peixe." Prices are reasonable for exceptional quality.
2. O Portão
Located in the heart of Funchal´s Old Town, O Portão is a culinary gem that enchants with its seafood dishes and Mediterranean, European, and Portuguese cuisine. The excellent service enhances the experience further. Don't miss the "Arroz de Marisco" (Seafood Rice) and the grilled "Peixe Espada Preto" (Black Scabbardfish) with banana. The laid-back atmosphere is perfect for gatherings with friends and family. Prices are fair, considering the quality of food and service.
3. Taberninha Zé Vitória
Taberninha Zé Vitória surprises with its quality and charm. With a menu featuring Mediterranean, European, and Portuguese dishes, this restaurant offers delightful meals in a cozy setting. Try the "Bacalhau à Zé do Pipo" (Codfish Zé do Pipo) and the "Bife na Pedra" (Steak on the Stone) with garlic sauce, a true delight. The attentive service from the staff makes the visit even more enjoyable. Prices are reasonable, providing excellent value for money.
4. Lá Ao Fundo
With a fusion of Mediterranean, European, Portuguese, and modern touches, Lá Ao Fundo offers a unique gastronomic experience. The welcoming and laid-back ambiance makes customers feel at home. Don't miss the opportunity to try the "Filete de Espada com Banana" (Black Scabbardfish Fillet with Banana) and the "Feijoada à Transmontana" (Traditional Bean Stew from Transmontana), dishes that captivate even the most discerning palates.
5. The Town
The Town is a must-visit for enthusiasts of international, Mediterranean, and fusion cuisine. The restaurant stands out for its attentive service and delicious food. Experience a world of flavors with the "Bife Wellington" (Beef Wellington) and the "Moussaka." The modern and elegant setting makes the dining experience even more special. Prices are fair, offering excellent value for money.
6. Ramen Bambu Funchal
For an authentic Japanese and Asian experience, Ramen Bambu Funchal is the ideal choice. Delight in the flavorful "Ramen de Porco" (Pork Ramen) and the grilled "Yakitori." The cozy and laid-back atmosphere invites you to relax and savour every moment. Prices are reasonable, providing a delicious introduction to the world of ramen.
7. Casa Mexico
A delightful discovery in Funchal's Old Town, Casa Mexico is a charming option for lovers of Mexican cuisine. Try the "Tacos al Pastor" and the "Enchiladas Verdes" for an authentic Mexican experience. The atmosphere is relaxed and welcoming, perfect for a casual gathering with friends.
8. Pizzaria Xaramba
Pizzaria Xaramba is a haven of Italian cuisine in the Old Town. The delicious pizzas and Italian dishes are prepared with warmth and care. Experience a true Italian delight with the "Pizza Diavola" or the "Pasta Carbonara." The atmosphere is laid-back and inviting, perfect for enjoying a family meal.
Funchal Old Town Restaurants: Conclusion
In the picturesque setting of Funchal's Old Town, a culinary adventure awaits with a delightful array of gastronomic gems. This article has taken you on a journey through "Restaurants in Funchal's Old Town: 8 Unforgettable Gastronomic Experiences," where each establishment showcased its unique flavours and charms.
From the divine seafood creations of Restaurante Cidade Velha to the fusion delights at Lá Ao Fundo, and the international flair of The Town, each restaurant has left a lasting impression on its visitors. Whether indulging in the authentic Japanese ramen at Ramen Bambu Funchal or savouring the flavours of Mexico at Casa Mexico, each culinary experience has been an adventure of the senses.
Funchal's Old Town proudly embraces its rich gastronomic heritage, blending regional tastes with innovative techniques to create extraordinary dishes. These hidden treasures offer more than just meals; they provide cherished memories and unforgettable moments.
As you embark on your own culinary exploration of Funchal Old Town Restaurants, may you find inspiration in the diverse flavours and warm atmospheres that these restaurants have to offer. Let your taste buds guide you through this charming town, and may each restaurant become a cherished part of your own gastronomic journey.
Would you like to explore Madeira Island in the comfort of a car? Renting a car in Madeira offers the freedom to explore its diverse landscapes and hidden gems efficiently. Rent your car now! 7M Rent a Car