So, you'll soon be driving in Madeira Island but you don't know where to go while you're visiting this beautiful island? In this article, we will reveal some secrets to where you definitely should go while driving in Madeira. As you know Madeira is an island in Portugal full of treasures and beautiful places, that's why there are some secret places that not all tourists know exist and we want to tell you the top 5 secret places you should go to. There are several roads to be driving your car around the island, you can choose to go fast without the most beautiful sights, or you can choose the slower roads and check a lot of beautiful landscapes in the way – but we strongly advise you to choose the most scenic roads, because it's the best fun way to be driving in Madeira.
Let's start revealing the secrets of Madeira Island
1. Garganta Funda
Garganta Funda (Deep Throat in English) is a beautiful hole in the ground with a waterfall located in Ponta do Pargo.
If you choose to go through the regional roads, this amazing place is located between Ponta do Pargo and Achadas da Cruz, to get there are some road signs that will guide you there – you'll need to do a short walk as there's no parking for the car nearby, but you can park your car in this coordinates N 32º49.154 W 17º14.824. The pathway is a bit slippery so don't rush yourself to get there, take your time and enjoy the views it will be worth the walk, prepare to be amazed by Nature's beauty – don't forget to take some photos. We advise you to try to visit this place during the rainy seasons so that you can see it with a waterfall, otherwise, it will probably be dry during the summer months.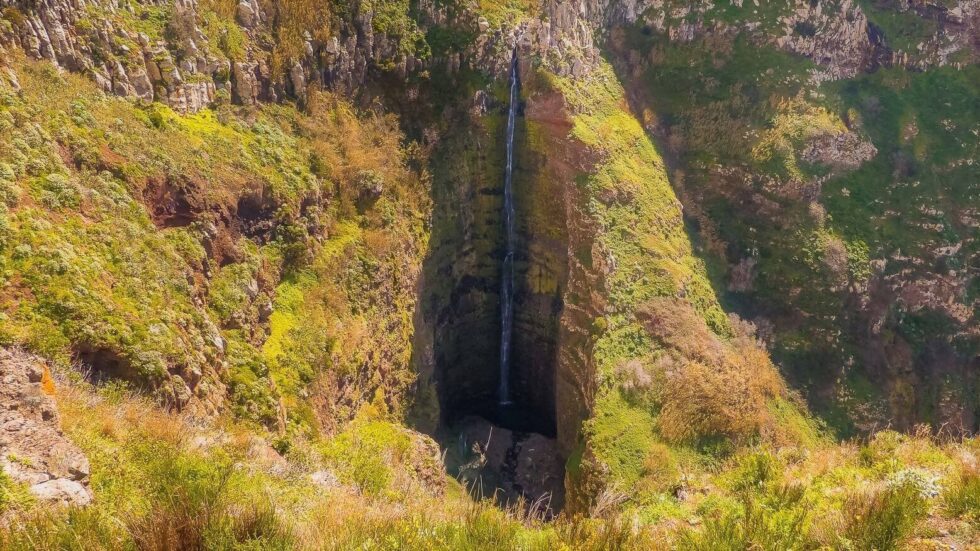 2. Poça das Lesmas
The Poça das Lesmas is a natural swimming pool in Seixal. This pool of volcanic origin is watered by a crystal clear seawater of the Atlantic Ocean and it's so beautiful that most visitors share several photos on their Social Media because they fell in love with the place.
To get there you'll need to go directly to Seixal, and enter these coordinates 32°49'35.0″N 17°06'38.1″W, there's a parking place below the main road so feel free to go down the road. Prepare to take a lot of pictures and share them on your Social Media too.
3. Chão da Ribeira
If you want to feel like you're entering Jurassic Park (without the Dinosaurs) this is the place to visit. This beautiful location is a wide valley filled with nature's green. The valley is part of Laurissilva Forest, a UNESCO World Natural Heritage Site. There are several old houses, known as "palheiros" for holiday rentals if you want to have a really quiet holiday time. This is definitely a place you'll love to be driving in Madeira. To get there you just need to go to this coordinates 32°49'05.2″N 17°06'03.9″W and follow the road signs.
(Photo by PauloSP)
4. Miradouro da Raposeira
The Miradouro da Raposeira is a viewpoint in Fajã da Ovelha where you can look over the beautiful Paul do Mar on the south coast of Madeira Island. Here you'll have such a wonderful view of the Atlantic sea and the coastal area of Paul do Mar, this is a perfect place to see a sunset, you are certainly going to be overwhelmed by this nature's spectacle. To get there you need to get to the road Caminho da Raposeira do Logarinho, when you reach to the end of the road it's just a 10 min walk to get to the viewpoint, be careful it's a bit slippery trail.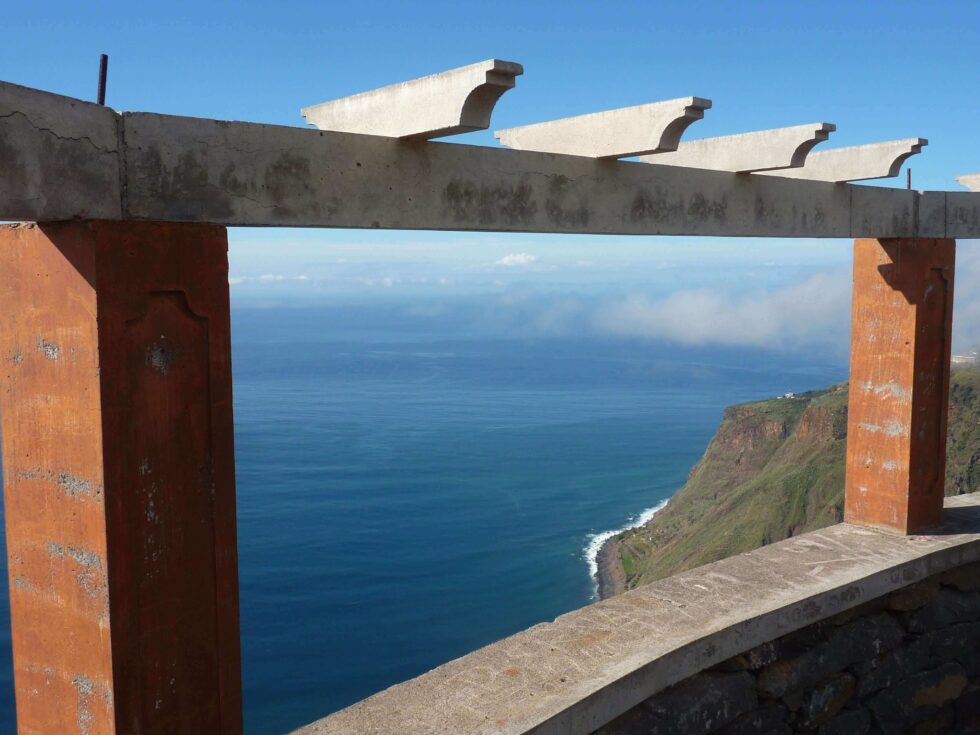 (Photo by Mike Finn)
5. Ruínas de São Jorge
The São Jorge ruins are located in a place known as Calhau de São Jorge, these peculiar ruins belong to an old sugarcane mill from a really old time. There's a beautiful entrance known as "portico" that is one of the main attractions, mostly because it's known to be a very "instagramable" place,  so don't forget to take your smartphone and camera with you, this is a great location to take a lot of pretty pictures. To get there you just need to go to São Jorge and look for the signs or just enter these coordinates 32°49'47.3″N 16°53'53.0″W. Have fun.
Do you want freedom of movement in Madeira Island?
Do you need to rent a car? At 7M Rent a car you can find the perfect vehicle to move to any of these secret places in Madeira. Feel free to explore and rent any of our cheapest or most luxurious vehicles.